SHAPE Choreography Festival
December 11-12, 2020
SALT presents its annual choreography festival, SHAPE.
Submit solo or group works virtually to be adjudicated by current choreographers; receive individualized feedback on your choreography; and take virtual workshops and master classes to improve your technique, improv, and creation skills.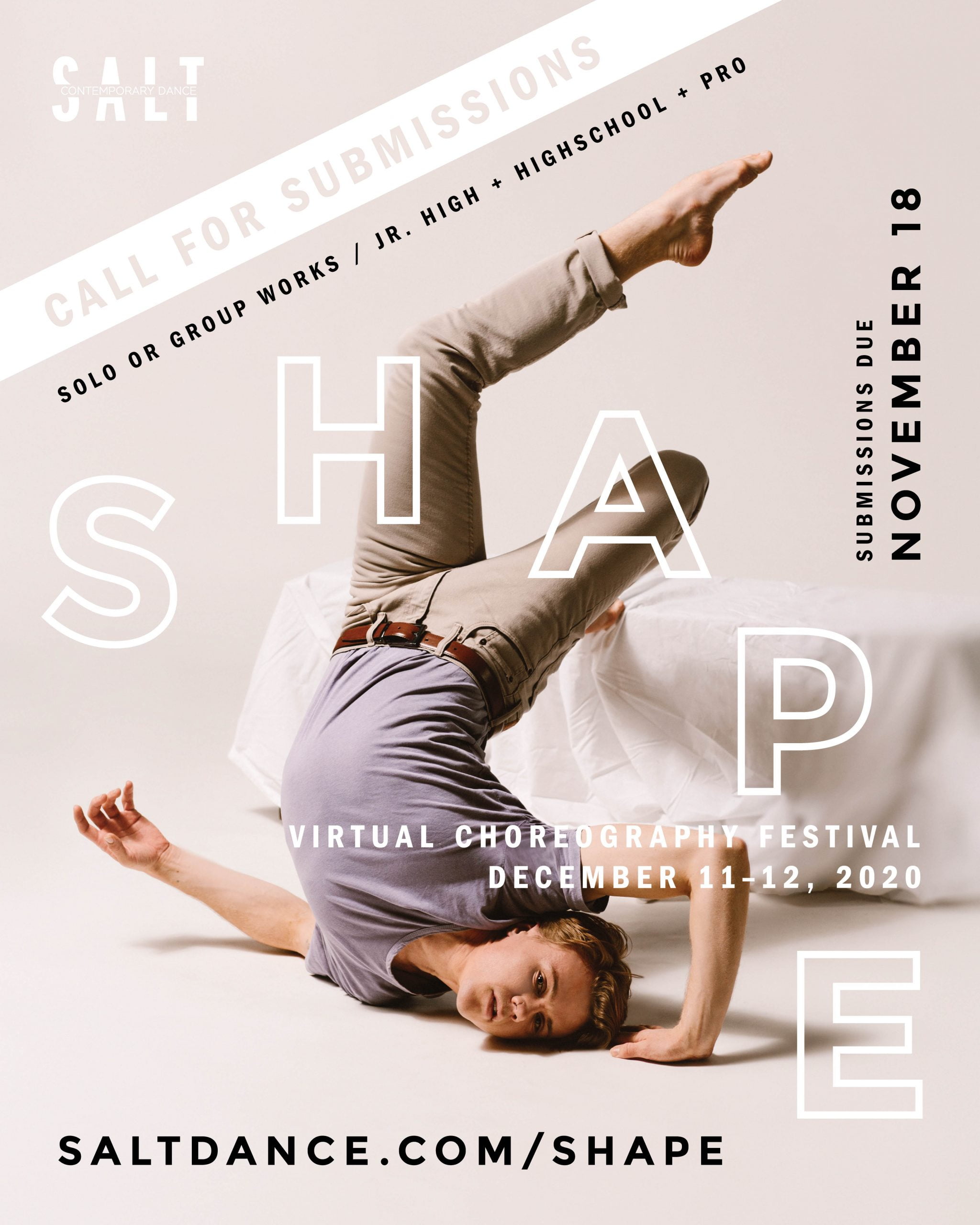 Schedule
Friday

9am-1pm
2 Classes & 1 Panel
Saturday

9am-1pm
2 Classes & 1 Panel
Submittal Pricing
Friday: Open to Jr High and High Schools
Pricing includes adjudication and workshop classes

$80 non-refundable deposit + $5 per student
Additional $25 per piece
(if submitting more than 1. Limit = 3 pieces/school).
Saturday: Open to the Public
Pricing includes adjudication. Workshop classes may be added for those participating in adjudication for $50

Solos: $65 non-refundable
Duos/trios: $75 non-refundable
Groups: $90 non-refundable
For choreographers submitting more than 1 piece: Additional $25/piece.
Workshop Only: $75 per day
Submissions Due November 18, 2020
Prizes
Select prize winners will be awarded scholarships to Winter Workshop or LINK Audition Festival.

Select prize winners will be featured on SALT social media channels.
Pre-professionals/Professionals

Festival 1st Choice
Festival 2nd Choice
Festival 3rd Choice
Honorable Mentions
Solos (Must Be Self-choreographed)

Festival 1st Choice
Festival 2nd Choice
Students

Festival 1st Choice
Festival 2nd Choice