The Bridge: How It Started…
In 2016, brothers Andrew and Stuart Maxfield were given a huge concert hall and ready collaborators and all they needed was … a show.
Stuart (frontman of the bands Fictionist and s2_cool) and Andrew (a classical composer) wanted to make something new and different. Something more than a concert.
The result, first shown to the public in 2016, was a genre-bending collaboration that involved live music, elaborate productions, and dance.
It was called The Bridge, and it was a reinterpretation of an intense wartime short story by Ambrose Bierce called "An Occurrence at Owl Creek Bridge."
This show rallied the talents of director Chris Clark and choreographer Jenny Barlow, librettist Glen Nelson, a small ensemble of professional dancers, and an array of musicians and designers.
---
This unconventional literary-music-dance collaboration led Stuart and Andrew to conversations with SALT Contemporary Dance and ultimately to a major commission from Utah Presents, which is bringing The Bridge to Kingsbury Hall on November 8, 9, and 10.
In the two years since its inception, the show has evolved, matured, and deepened…
Thanks to the collaborations with SALT, award-winning choreographer Brendan Duggan, and a fantastic creative team, this show—a long-form story told through new dance and music—will lead you into love and loss in the fringes of war.
---
The Bridge runs from November 8-10 at Kingsbury Hall.
Tickets start at $20
Youth 18 and under $10
University of Utah students $5 (purchase at box office w/ U ID)
Non-University of Utah students $10 (purchase at box office w/ school ID)
U staff/faculty save 10% (purchase at box office w/ U ID)
---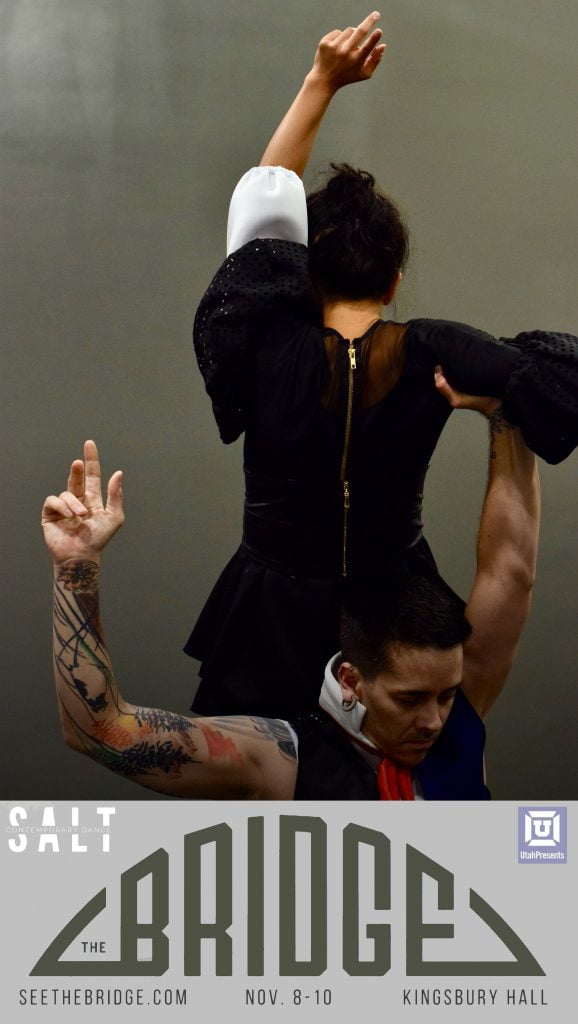 Photos by Izzy Arrieta. 1. SALT dancer Amy Gunter Lolofie. 2. SALT dancers Ching Ching Wong and Eldon Johnson